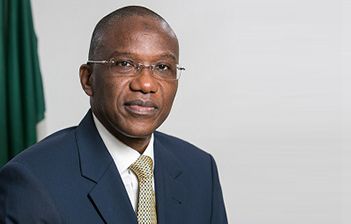 AMCON MD WINS AFRICAN BEST RATED CEO OF THE YEAR AWARD
21st March 2017
Managing Director/Chief Executive Officer, Asset Management Corporation of Nigeria (AMCON), Mr. Ahmed Kuru during the week emerged winner of African Best Rated CEO of The Year at the second edition of the National Development Forum (NDF)/award ceremony organized by African Development Magazine. The theme for this year's lecture, which was delivered by Vice President, Yemi Osinbajo SAN, is entitled "The corruption conundrum: How to lead proficiently with integrity in Nigeria."
Explaining the criteria for the selection of Kuru at the event, Mr. Mr. Ayo Ilesanmi, the organizer of the award ceremony and Publisher/Chief Executive Officer of the media house stated that the AMCON boss was adjudged winner by the panel of judges after a careful evaluation of the difficult assignment he does at AMCON and the fact that he goes about it in the way that supports the ongoing fight for corruption in the country.
He said looking through the Ministries, Departments and Agencies (MDAs) of government in the country, the assignment of Kuru looked scary and daunting because it entailed chasing dangerous debtors that have borrowed money from tax payers to fund their lavish lifestyle while deliberately refusing to pay back, which he argued has contributed to cripple the Nigerian economy.
Kuru, in his acceptance speech said he was humbled by the fact that NDF appreciates the challenging job of recovery money for Nigeria. He said the award came to him as a surprise because AMCON being the first of its kind in the country was initially misunderstood by the public especially when the Corporation started closing in on a good number of its recalcitrant debtors. Kuru who was represented at the event by Mr. Jude Nwauzor, Head of Corporate Communications at AMCON thanked the organisers for the honour and promised that the award would reenergize Kuru and AMCON to pursue the Corporation's mandate without fear or favour.
NDF is an independent peer-review mechanism designed to further the discourse on development at local/national levels where professionals form the nexus of core competences in diverse areas and proffer practical steps in addressing them towards national development. Participants to the event are selected experts from different sectors of the economy in the private and public sector, the civil societies, youth organisations and media communications strategists, amongst others.
Other distinguished professionals who received this year's ADM awards of excellence in other categories include Dr. Ladi Awosika, Africa best rated personality of the year; Sir Dozie Mbanefo, Africa best rated outdoor personality of the year, HYGEIA HMO, Africa best rated HMO of the year and Pastor Remigius Christian, the General Overseer, God's Firmament Covenant Ministry (GFCM).