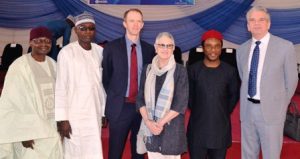 IDPs Donation: USAID-ECR Rewards AMCON With Award
19th January 2018
Asset Management Corporation of Nigeria (AMCON) during the week received yet another award in Maiduguri, the Borno State capital from USAID-Nigeria Education Crisis Response Project. The event was the Close-Out-Ceremony of the programme jointly organized by the ministries of Education in Adamawa, Bauchi, Borno, Gombe and Yobe States in collaboration with USAID- Nigeria Education Crisis Response Project at the government house, Maiduguri.
A citation read on behalf of the organisers at the event, which was chaired by the Deputy Governor of Borno State, Alhaji Usman Mamman Durkwa stated that AMCON was selected for the award in recognition of its contribution to the educational development and wellbeing of out-of-school internally displaced and host community children in Adamawa, Borno and Yobe States under the auspices of the USAID-funded Nigeria Education Crisis Response project 2014 – 2018.
The Deputy Governor, who stood in for the Governor, Alhaji Kashim Shettima at the event thanked AMCON and other individuals and organisations that received awards at the close-out-ceremony for coming to the aid of the governments and people in the affected states in the northeast, especially Borno State, where he disclosed that he incidentally flagged-off the programme when the American agency kick started the project.
Recall that AMCON last year showed heavy support to some affected children and families that were traumatized and distabilised by the mindless insurgence in the northeast, where violent attacks by extremists forced more than 2.2 million people to flee their homes including over one million children who are presently out of school.
AMCON donated scholastic materials to mainstreamed learners and parents caregivers; starter packs for small scale businesses as well as food items such as rice, beans, semovita, groundnut oil, cooking utensils and salt, among others to the families of Internally Displaced Persons (IDPs) in the northeast.
Between the months of November and December, the donated items were duly distributed to the beneficiaries by a team from USAID-Nigeria Education Crisis Response (USAID-ECR) led by its Project Director, Mr. Ayo Oladini. The distribution activities was closely supervised by officials of AMCON who irrespective of the dangers in the affected states traversed the length and breadth of the affected states to ensure that the items got to all the beneficiaries.
The organisers stated that such rare commitment AMCON showed to the whole project as well as the human and material resources they committed to the distribution exercise against all odds prompted the organisers to recognize AMCON as a dependable partners and supporter at the close-out-ceremony that was attended by the Education Commissioners from the affected states as well as the top echelon of Creative Associates International USA including Mr. Earl Gast, the Senior Vice President; Mr. Semere Solomon, Senior Director; Mrs. Susan Ayari, Senior Associate; Mr. Jake Thomsen, Technical Manager, and Mrs. Nafisa Ado, the Regional Coordinator, Department of International Development, UKAID and a host of others.