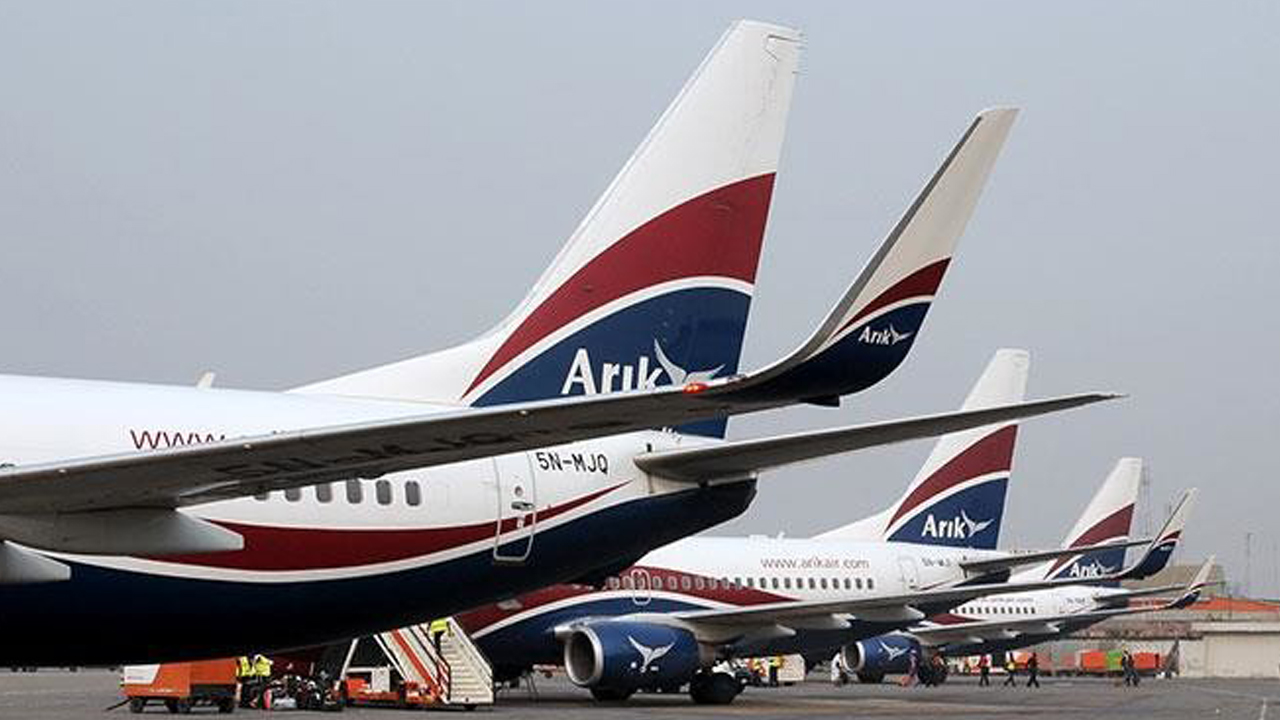 AMCON's bid to return Arik Air to founder fails twice over N240.3b debt
16th June 2023
Fresh facts have emerged in the conflict of interest between the shareholders of Arik Air and the Asset Management Corporation of Nigeria (AMCON), with the latter showing evidence of failed attempts to return the airline to its founder.
AMCON and Arik Air (in-receivership), which had been accused of barring the major shareholders from access to the airline's headquarters, showed efforts at an amicable resolution of the difference, but for the yet unresolved payment plan for debt over N240.3 billion, as of May 2022.
Recall that AMCON, the special debt recovery vehicle of the Federal Government, took over Arik Air in February 2017 as part of measures to "save" the airline from "imminent collapse". AMCON had cited gross mismanagement by the owners of Arik, and debt above N300 billion.
In a recent twist to the development, the Chairman of Arik Air, Johnson Arumemi-Ikide, lately attempted to reclaim the airline's headquarters following a Federal High Court ruling that faulted AMCON on transparency, transfer of Arik's asset to float a new airline, and barring of Arumemi-Ikide and co. from the Arik Air facilities.
The Guardian yesterday learnt that the major shareholders of Arik Air, led by Arumemi-Ikide, had on at least two occasions – in 2018 and 2022 – called for amicable settlement of the debt, which were welcome by AMCON and Arik Air (in-receivership).
In a 2018 memo to AMCON, the shareholders had hinted at a ready investor willing to settle Arik's outstanding. The Management of AMCON agreed (subject to regulatory approvals) to settle the then indebtedness of Arik Air with the payment of the sum of N65 billion to AMCON in full, and the final settlement of AMCON's debt of N135.3 billion.
Also, payment of the sum of N26 billion to AMCON concerning Zenith Bank Plc's exposure was taken over in full and final settlement of all debts owed to Zenith Bank Plc. Payment of a sum equivalent to 65 per cent of the debt owed to Access Bank Plc (N7.6 billion) and EcoBank Plc (N5.2 billion), respectively. Furthermore, the condition that the company will bear the cost and expenses incurred post receivership.
It was agreed that, "Upon payment of the debts to AMCON and the banks, the receivership will be terminated and Arik Air Limited returned to its shareholders/owners alongside all documents and securities held by AMCON and the banks".
According to AMCON, "in response to repeated requests for a proof of funds, (the shareholder) introduced SJ Global as a potential investor. Unfortunately, their purported letter of funds in Citi Bank, Hong Kong, turned out to be spurious and fake. After this, the shareholder of Arik through various emails intimated AMCON about some expected funds from U.S."
Though AMCON continued to trust and proceeded to issue the offer for settlement, "the shareholders of Arik were unable to perform until the offer expired."
Again, following a December 2019 letter, the major shareholders of Arik approached AMCON for a meeting to negotiate a discount on the expired offer to pay N65 billion. The Receiver Manager invited them to a meeting with the Management team of AMCON. No further reply was received, though later blamed on the ill health of the Arik founder.
In a May 18, 2022 letter to AMCON, settlement proposals were again made by Arik Air shareholders. This includes the proposal to pay N18.2 billion as full and final payment for both AMCON and Zenith Bank exposure – 80 per cent discount on the sum of N91 billion (being the total of the N65 billion and the N26 billion in our April 11, 2018 offer).
Also, five per cent as a down payment in cash or asset or a combination of both and a balance payment over a 10-year tenure with a two-year moratorium. Balance at zero interest throughout the tenure and a further five per cent discount, if the balance is paid two years earlier.
The shareholders further, "request on AMCON to assist to remove Arik from CBN debtors list and assist to obtain funds for capital injection to rebuild the airline at BOI interest rate.
"AMCON to assist to get concessions from CBN for Arik Air to get access to foreign exchange directly from CBN to repair, refurbish grounded and presently unserviceable aircraft and purchase spares to restock for efficient operations of the Airline.
"AMCON to assist the Airline in discussions with various debtors when and if necessary. Once an agreement is reached, this will be presented to the court as a consent judgment and all cases in courts should be withdrawn by both parties."
AMCON, however, declined to accede to the proposal "as it does not meet settlement expectations."
Upon receivership in 2017, AMCON disclosed that "Arik did not have adequate cash available even for a week's operations. Out of the 30 aircraft on the records of the company, only eight aircraft were on the ground and immediately available for operations.
"The company was heavily indebted to Lufthansa Technic; its long-standing Maintenance Repair Organisation (MRO) and they had withdrawn their services and left Nigeria. They were replaced with Ethiopian Airlines (MRO). These were also being owed at the commencement of the Receivership.
"SAMCO Aircraft Maintenance Limited (SAMCO), a Dutch company responsible for maintaining the CRJs and the Q400s, was owed over EURO2.4 million representing nearly six months of obligations.
"Outstanding salaries owed to indigenous and expatriate staff. The work environment was toxic, with many disgruntled staff due to unpaid salaries. Salaries of the expatriate staff and crew were unpaid. Some since July 2016. Some Nigerian Pilots had not been paid since October 2016. In addition, salaries for other local staff had been outstanding since December 2016.
"Health insurance for the employees had expired and was not renewed. Staff and company pension contributions were unremitted for years.
"Recency training for many pilots necessary to certify pilots for the flight was suspended due to lack of funds. This involves simulator training, available abroad. All training schools were owed and had refused further credits. Thus, pilots were grounded, and many flights could not be properly crewed.
"Hotels housing crew and expatriate staff were not paid. In some cases, rents on the apartments of foreign crew/engineers were outstanding. The company was stranded. Arik was cancelling flights due to its inability to be fuelled on credit or to pay fuellers upfront as there were outstanding payments owed to aviation fuel suppliers.
"Outstanding insurance premium on the aircraft; etc. The insurance policy for the airplane fleet was due to lapse on Friday, 10 February 2017, and the Company was already owing N418.89 million as arrears of unpaid premiums. Lack of maintenance reserves. There was no Arik maintained reserve to overhaul planes.
"Leases on two A330 planes from subsidiaries of Standard Charter were outstanding for over six months. Mercator, the company with the rights and responsibilities for the management of the Passenger Service System and sale of tickets, was owed $2.5 million. They subsequently cut the company off from using the platform.
"Curiously, even the internet subscription offered by Globacom was suspended due to overdue payments. A good number of the aircraft were at different locations and in various states of disuse. Some of the aircraft had been robbed of vital parts."