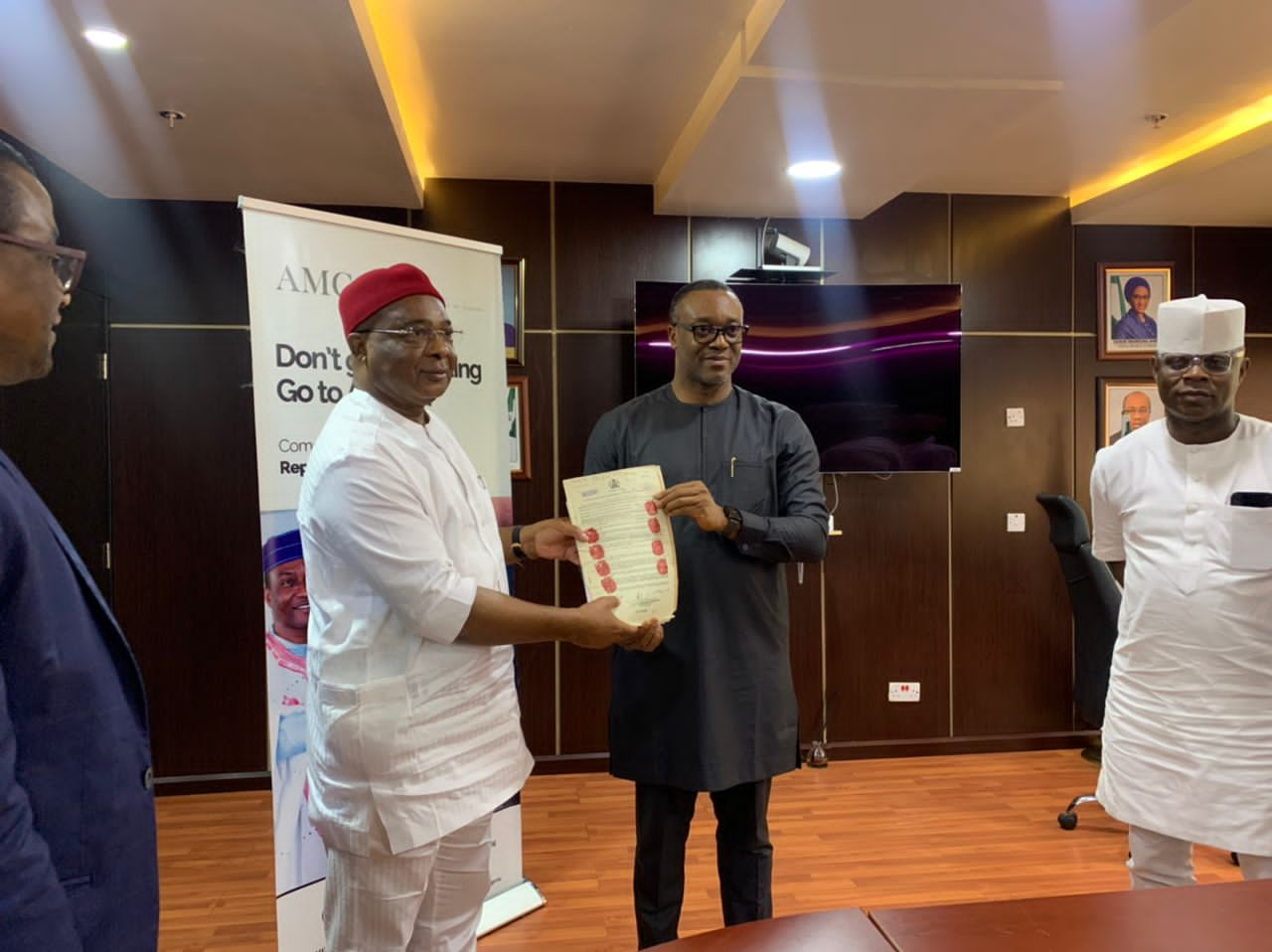 Debt Settlement: AMCON Returns Standard Shoe Company Limited To Imo
1st August 2022
As part of its strategy to part­ner, support, and help revitalise businesses in its portfolio over huge debt, the Asset Manage­ment Corporation of Nigeria (AMCON) in Abuja on Friday, handed over the original title documents of Standard Shoe Company Limited, a foot­wear manufacturing factory co-founded by the Imo State government to Governor Hope Uzodinmma of Imo State.
The handover of the asset followed the resolution of the indebtedness of Standard Shoe Company Limited to AMCON.
Ever since it took over the factory, AMCON had continued the engage the government of Imo State because of the criti­cal impact resuscitating such a massive factory would make in the manufacturing sector of the Nigerian economy.
In a brief remark before handing over the documents to Governor Uzodimma, Dr Eberechukwu Uneze, an Exec­utive Director in charge of asset management at the corpora­tion, who represented the MD/ CEO, Mr Ahmed LawanKuru, said AMCON was not only hap­py that the Imo State govern­ment finally resolved indebted­ness with AMCON, but because the factory would now go back to the good people of Imo State and contribute to job creation, and improve the internally generated revenue of the state, in line with AMCON mandate.
Uneze commended the Imo State governor for making ef­forts to resolve the outstanding loan obligation owed AMCON by the Imo State government.
He added, "My governor, we appreciate this effort because other governments in Imo State have come and gone but none of them had made this much ef­fort to resolve this debt. So, it is a huge impact you have made. I hope this will energize the State and encourage the good people of Imo State."
In his acceptance speech after signing and receiving the documents Uzodimma recount­ed the pleasant experience he had with AMCON all through the negotiation process.
He urged other obligors to approach AMCON freely and willingly because the corpora­tion is not hostile, but only in­terested in their recovery man­date and in genuine growth as well as development of the country.